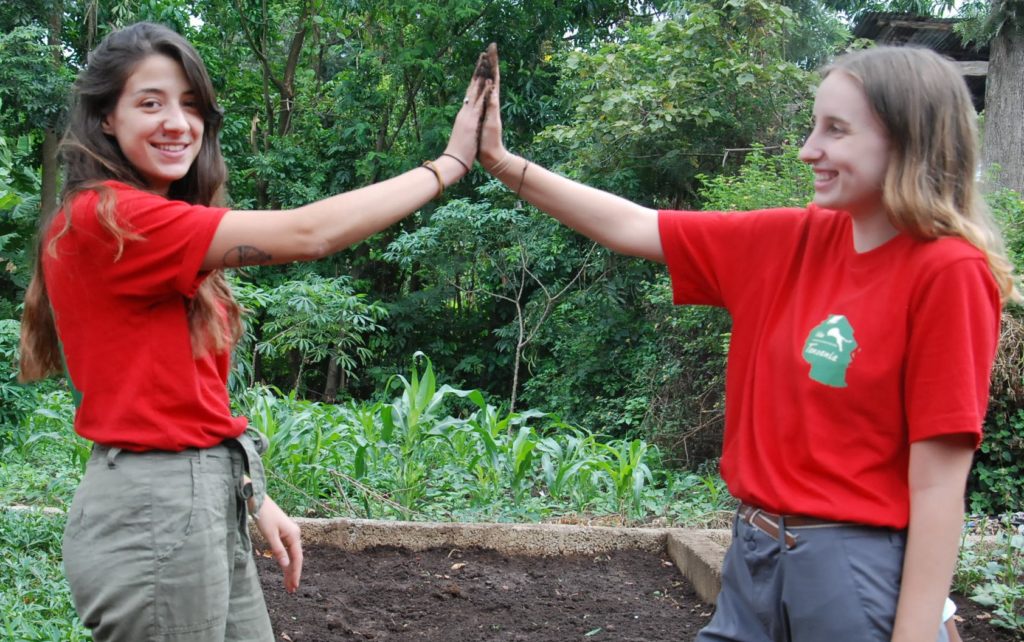 Feeling particularly fancy in our own private dala dala, a group of volunteers left Nyumbani Hostel on Friday morning for our monthly community day.
On the last Friday of every month, we all come together to help one of the many projects we work with. Pippi House is a shelter for homeless girls, women and their children that aims to provide them with an education and a better way of living. Recently, they have created their own garden where they aim to grow vegetables both to sell for a little income and to use in their journey to become a little bit more self-sustainable.
We arrived at Pippi House to a warm welcome and lots of hugs and excitement from the children. After making our introductions and getting comfortable with everyone, it was time to get to work! The vegetable garden is at the back of Pippi House, surrounded by beautiful scenery and a little stream used for gathering water for the garden.
The first order of business was weeding, so it was time for our volunteers to get stuck in. The people at Pippi House were friendly and keen to help, even though it was us who had come to help them! Next, came the hoe and the rake which was quickly finished, but not before one of the strong little boys took over and showed us how we should have done it!
Working with everyone at Pippi House was what made the day even better. It's always fun to get a little muddy and do some good, but it's so much better to do it while making friends.
After all the seeds were planted and things were tidied up, the time had come for us to play.
We had a fantastic time playing with the children, as we got the chance to exchange ideas with the girls there which made them happy! One of the girls was so excited to learn how to take pictures using the camera and with only one picture as an example, she was ready to do it herself and start taking pictures of her friends and everyone around the house using one of our volunteer's camera.
After the great day and experience in Pippi House, making friends, we were ready to wash the dirt off our hands, fill our bellies with food, and return home with a smile.